In honor of our dear friends, we've compiled a list of 10 true facts about these relationships that you probably didn't know. Here's science has to say about friendship.
In honor of our dear friends, we've compiled a list of 10 true facts about these relationships that you probably didn't know. Here's science has to say about friendship.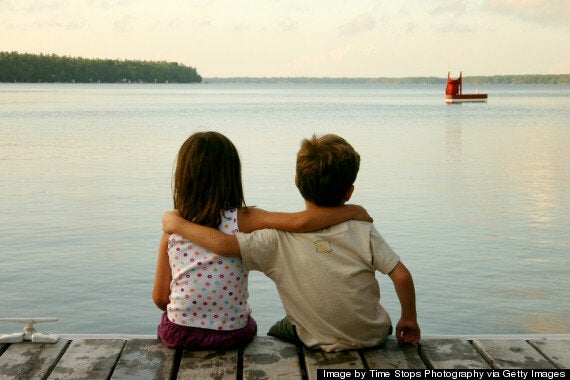 1. MEN AND WOMEN CAN'T BE FRIENDS
Think you have a friend of the opposite sex? After reading this, you'll think again. A study at the University of Wisconsin shows that friendship between men and women is a fairly recent phenomenon, and that it's impossible to escape from moments of seduction and sexual tension.
"Little research has explored how men and women navigate platonic cross-sex friendships, which are presumed to involve neither sexual relations nor kin," maintains April Bleske-Rechek, a psychologist and one of the directors of the study.
Scientists studied 88 friend couples of the opposite sex and concluded that men were more physically and sexually attracted to their female friends, and tended to overestimate how these women saw them.
2. ANIMALS HAVE FRIENDS, TOO!
But several studies have shown that, at least between chimpanzees, baboons, horses, hyenas, elephants, bats and dolphins, animals can form friendships for life with individuals that aren't from their species.
But why do animals form these bonds?
The most obvious answer is that friendship has certain benefits: in all the cases studied, friends had better health, less stress and more reproductive success.
This means that friendship is going to become a more and more common characteristic of the species, according to scientist Carl Zimmer.
3. FRIENDS TRIGGER OUR EMPATHY
The ability to put yourself in someone else's shoes is a key human characteristic, but with friends we take it to the next level.
A group at the University of Virginia studied brain scans from 22 different people who were under threat of receiving small electrical shocks to either themselves, a friend, or a stranger.
Scientists discovered that the brain activity of a person in danger, versus that when a friend is, is essentially the same.
"Our self comes to include who we become close to," says James Coan, psychologist and director of the study.
"People close to us become a part of ourselves, and that is not just metaphor or poetry, it's very real. Literally we are under threat when a friend is under threat," he summarizes.
Coan relates this development to the issue of survival and similarity, which grows as you spend more time with someone.
"Humans come together to prosper. Our goals and resources are shared. If someone is threatening a friend, they're threatening our resources and goals," he believes.
4. FRIENDS WERE LIMITED … UNTIL FACEBOOK
In 1993, anthropologist Robin Dunbar of the University of Oxford extrapolated for humans the results he obtained studying primate social groups: every individual can only maintain up to 150 significant relationships at the same time.
But the question now is – is accumulating relationships detrimental to closer friendship ties?
Will Reader, a Doctor in Psychology at Sheffield Hallam University in the UK, notes that, although the majority of friendships start outside of the internet, the web can help us to keep up relationships that previously, because of long distance and lack of time, were lost.
5. WE'RE JEALOUS AND WE GIVE WHAT WE GET
If someone considers you their best friend, you probably feel the same way, right?
"We're jealous beings. How our friends value us and our relationship directly affects the friendship itself," suggests Peter DeScioli, the coordinator of the study that throws out the traditional theory that friendship is just a mutual exchange of favors.
"If you think about friendships in terms of alliances, […] one of the main things you'll find about allies is that they are fundamentally jealous of each other.
"If Saudi Arabia is allies with the United States, it's not just concerned about its relationship with the United States. It's also concerned about the relationship that the United States has with other nations […].
"In reciprocal or exchange relationships, […] you just care about what you're getting out of the relationship," DeScioli explains, maintaining that friendship is created as a protection and advantage in times of conflict.